CX410 Platform ID = F101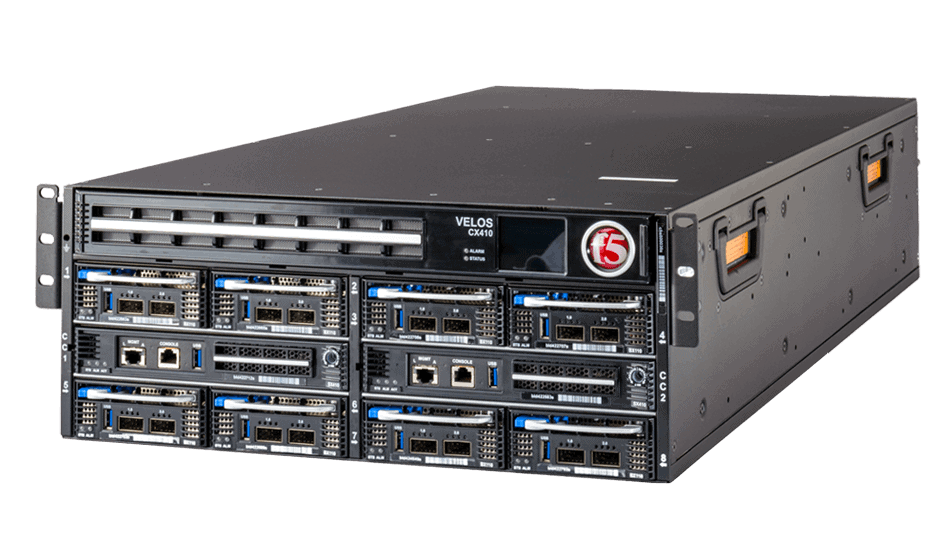 This is the most recent Hardware Datasheet specifications for the F5® VELOS Chassis Hardware. If you are looking for prices or part numbers, please follow this link. Below you will find details on memory, hard drive size, processors, throughput, power stats and more. Contact WorldTech IT for discounts, special pricing & a free environment review.
Need a quote for F5 products?
Receive your F5 quote from WorldTech IT first, and our experts will perform installation or migration services at 50% off!
Disclaimer: When purchasing F5 products, contact WorldTech IT first to ensure you receive the best pricing possible. If you've already received a quote on the F5 products you're considering, we can't receive preferred pricing from F5 and subsequently won't be able to offer the best price for your purchase.
SPECIFICATIONS
VELOS CX410
Dimensions:
H: 6.9 inches (17.5 cm) x W: 17.4 inches (44.2 cm) x D: 32.0 inches (81.3 cm) rack-mount chassis
Weight:
Empty chassis, as shipped (0 blades, 8 blanks, 2 power supplies, 1 fan tray, 2 system controllers, 2PSU controllers):
132 pounds (60 kg)
AC power supply: 6.4 pounds (2.9 kg)
Power supply blank: 0.2 pounds (0.09 kg)
Blade blank: 0.1 pounds (0.05 kg)
Fan tray: 12.0 pounds (5.4 kg)
System controller: 10.5 pounds (4.8 kg)
VELOS PSU Controller (VPC): 0.5 pounds (0.2 kg)
Power Supply:
Two (default) to four 3000W, 200-240 VAC input, 16A per cord (max, 32A total)
Operating Temperature:
32° to 104°F (0° to 40°C)
Relative Humidity:
5% to 85% (40°C) non-condensing
Up to 93% (40°C) non-condensing for a maximum of 96 hours
Safety Agency/Approval:
Harmonised standards:
IEC 62368-1:2014 (second edition)
EN 62368-1:2014+A11:2017
CSA C22.2 No. 62368-1-14, UL 62368-1, 2nd edition
ETSI EN 300 386 V1.6.1 (2012) Class A
EN 55032:2012/AC:2013 Class A
EN 55024:2010 Class A
IEC 63000:2018
Redundancy (Power):
Supports N+1 or N+N redundancy
System Controller SX410:
1x 10GBase-T
1x USB 3.0
1x serial console
960GB NVMe SSD
8-Core Intel SoC
32 GB DDR4 memory
Hardware Certification Model:
CX410-AC
Trusted Platform Module (TPM):
TPM 2.0
Compatible BIG-IP Software Version Matrix for VELOS Chassis CX410
For a complete list of all BIG-IP release notes and release dates, please follow the link.
For a table with all compatible hardware and software versions, please follow the link.
Platform
Compatible F5OS versions
Compatible BIG-IP software versions
Lifecycle note
AOM
EUD
Chassis/Type
System Controller
Blade/Type
1.x
17.x
16.x
15.x
14.x
13.x
CX410/F101
SX410
BX110/A118
1.1.0
None
None
None
14.1.4.1
(And no other versions)
None
N/A
1.03.0A (SX410) 5.04.00 (BX110)
N/A
1.1.1 – 1.1.4
None
None
None
14.1.4.1 – 14.1.4.5
None
1.2.0 – 1.2.1
None
None
15.1.4 – 15.1.5
14.1.4.1 – 14.1.4.5
None
1.3.1
None
None
15.1.4 – 15.1.5
14.1.4.1 – 14.1.4.5
None