Understanding all the F5® products and services available in the BIG-IP® product line can be a bit confusing, especially if you're new to F5. We'll do our best to help you understand F5 Software Modules, Hardware, the new F5 SaaS cloud offering dubbed F5 Distributed Cloud Services, their Managed Services offerings, and how F5 licenses and prices it all.
Contact us and someone will assist you shortly.
F5 BIG-IP Software, Hardware, Managed Services, and Cloud
The core technology behind F5 products is the BIG-IP Traffic Management Operating System® (TMOS) Software. When people talk about the software modules like LTM®, GTM™, APM®, AFM™, and AWAF® (formerly known as ASM™) – they are referring to the logical software modules that run within the BIG-IP TMOS. To be clear, they are not individual hardware modules, i.e. you don't buy another card to add a module, it's all logical licensing. You can use the software on a dedicated Hardware Appliance or Virtual Machine (VM). It also powers F5's managed security services offering Silverline® for DDoS & WAF, where F5s dedicated NOC does all the heavy lifting for you. Additionally, F5 has now launched their F5 Distributed Cloud Services – which not only uses BIG-IP technology, but also leverages tech from their recent acquisitions, like SHAPE's artificial intelligence and machine learning to improve their already leading Web Application Firewall with improved learning & Bot defense. NGINX & ThreatStack are also helping to shape the future of F5's Cloud.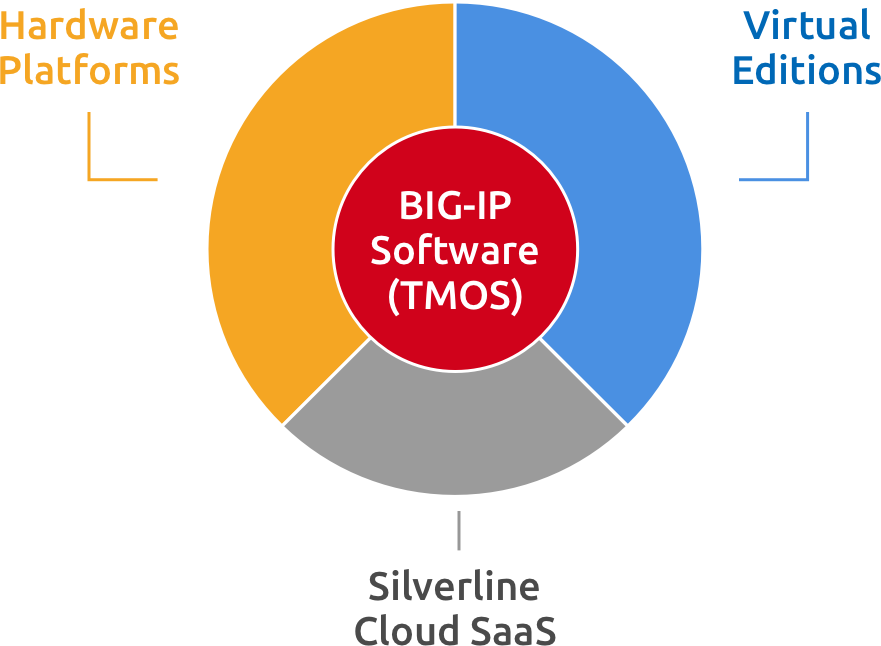 BIG-IP Software Modules
The Local Traffic Manager™ (LTM) and Global Traffic Manager™ (GTM) are the core modules F5 has built it's application delivery architecture on. F5 now offers a whole product suite that builds on those capabilities - making F5 the most comprehensive solution to deliver your applications.
DNS

DNS (Global Traffic Manager)

Intelligent, Secure, Super Fast Name Resolution

LTM

Local Traffic Manager

The foundation of Application Delivery / Load Balancing

AFM

Advanced Firewall Manager

Full Blown ICSA Certified Firewall

AWAF

Advanced Web Application Firewall

Go farther than just the OWASP top 10

APM

Access Policy Manager

Secure, Unified, Context-aware, Policy-based Identity Access Controls for all Devices

SWG

Secure Web Gateway

URL Categorization, filtering, and security for your outbound web browsing traffic

SSLO

SSL Orchestrator

Intelligent bulk ingress & egress SSL/TLS decryption

Big IQ

Centralized Management

Centralized backups, analytics & config management
Remember, all of these modules can run on the BIG-IP Software. It's just a matter of licensing and Hardware or Virtual Machine Device limitations to consider.
BIG-IP® iSeries® Hardware Platforms
BIG-IP® rSeries® Hardware Platforms
VELOS® Chassis and Blades
vIPRION® Chassis and Blades
End Of Life Hardware Datasheets
Virtual Editions
F5s BIG-IP Virtual edition is a great option when flexibility is needed in a deployment, allowing customers to spin up environments on demand. Whether it's on your premise saving real estate & cooling costs, or in a cloud offering like Amazon Web Services (AWS), Azure Cloud, or Google Cloud Platform (GCP) - the F5 VE can be a great option to deploy BIG-IP. You can run every BIG-IP module on F5 Virtual Editions - which can be deployed on all the leading hypervisors.
The F5 VE is priced by throughput, and can be purchased for individual modules, or you can take advantage of the new good, better, best pricing model. Throughput Options below:
High Performance
10 Gbps
5 Gbps
3 Gbps
1 Gbps
200 Mbps
25 Mbps
10 Mbps

*
* Lab VE only
F5 Silverline Managed Security Services
F5 now offers enterprises the ultimate in scalability and agility by offering pieces of the BIG-IP as a cloud based solution via F5s Silverline Services. Currently F5 is offering DDoS protection and Web Application Firewall services via Silverline. Stay tuned - more services are sure to be offered soon.
How to Buy & License F5 Products & Services
Understanding how to buy and license F5 products & services can get overwhelming fast, fortunately the experts at WorldTech IT have it all distilled for you in an easy to read F5 Licensing Blog Post. Remember, WorldTech IT is a leading F5 Unity Partner and has the best prices around all things F5, when you buy from us you'll also receive discounts around our leading professional services.